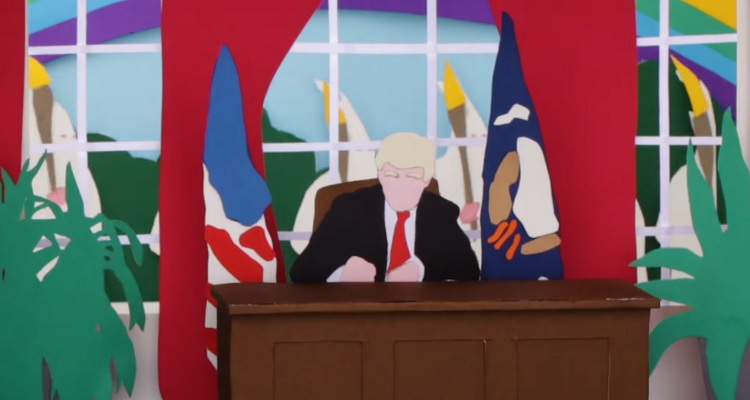 With their new music video, U2 suggests that Donald Trump has allowed the KKK to once again infiltrate America.
Do President Donald Trump and the White House support white supremacy and neo-Nazism?  According to popular Irish rock group U2, yes.  Yes, they do.
In the music video for their latest single, 'Get Out Of Your Own Way,' the Ku Klux Klan openly infiltrates various aspects American society, including Donald Trump's White House.  KKK members also march across the White House lawn.  President Donald Trump signs several bills into law, taking a moment to stop and stare at the white supremacist visitors.
Calling fans to resist the KKK's (as well as Donald Trump's) racist, white supremacist ideology, Bono sings,
Clearly citing America's history racism and invoking Judeo-Christian symbolism, Bono adds,
Tel Aviv graffiti collective Broken Fingaz Crew created the stop-motion video.  The group used paper cut-outs that they shot entirely analog.
Broken Fingaz Crew made the video to combat what they see as the rise fascism in the world.  The graffiti collective also singled out the rise "Trump-era politics."
The video's description reads,
"2017 for us was the year fascists worldwide felt confident enough to raise their heads again, encouraged by Trump and other world leaders who use people's fear to build more walls and segregation."
With the video, the group hopes that the song will serve as a "personal letter" and a "clarion cry."
---
Featured image by U2VEVO (YouTube screengrab)