With 'First on SoundCloud,' CEO Kerry Trainor is doubling down on what the platform does best: discover new artists.
Chance the Rapper.  Lil Uzi Vert.  Lil Yachty.  Post Malone. (The late) Avicii.  Kygo.  These big-name artists have one thing in common.  They all have SoundCloud to thank for propelling their careers.
"Shout out to SoundCloud for holding me down," Chance the Rapper said during his 2017 Grammy acceptance speech.
Now, prepare for a new list names.  Like Claptone, Jan Blomqvist, Jay Prince, Lotic, Little Simz, and Peggy Gou.
SoundCloud has announced the expansion its 'First on SoundCloud' campaign in the UK and Germany.  The indie streaming platform will spotlight emerging talent within the EDM and hip hop communities in Europe.
SoundCloud will feature the aforementioned artists on its mobile app, newsletters, and on social media.  In addition, the company will do outdoor advertising in Berlin's populated Schlesische Strasse and Friedrichshain districts.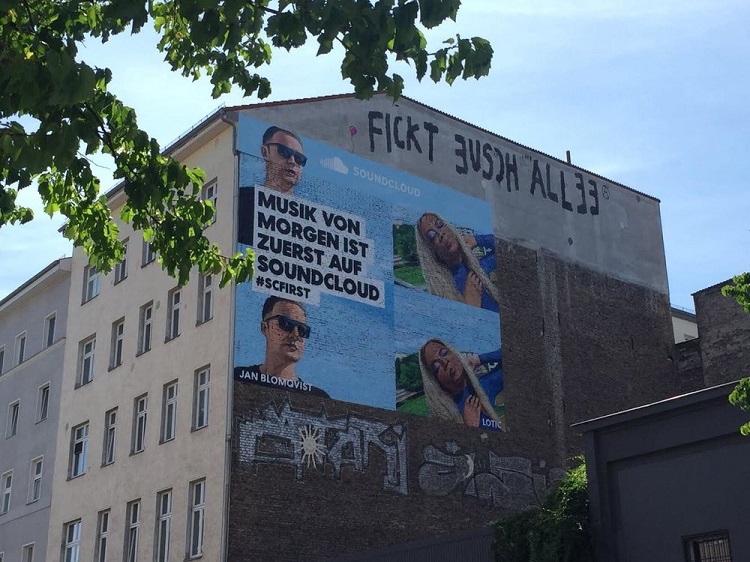 Ads will also appear at Ebor Street and Great Eastern Street Gallery in London's Shoreditch neighborhood.
SoundCloud first debuted its campaign in the US in March.  The indie streaming platform promoted emerging talent through new music, video, and photography.
A clear shift in strategy for the company.
Taking over for SoundCloud's embattled founder and former CEO – Alexander Ljung –  Kerry Trainor knows what listeners really want – fresh new music.  He also knows what creators need – powerful music creation tools not found on platforms like Spotify and Apple Music.
Speaking with The Drum, he explained why he joined SoundCloud last year.
'First on SoundCloud' underscores Trainor's new strategy.
With #SCFirst, any artist can tag content to have the opportunity to be featured on SoundCloud.  The campaign will draw in more indie creators eager for global prominence.  So, to create better music, they'll have to purchase much-needed music creation tools for $70 to $100 a year (Pro and Pro Unlimited).  This, course, will boost SoundCloud's bottom line.
The end result?  More fresh new music available on the platform and more listeners eagerly listening on SoundCloud.  And even more creators lining up to upload their music.
So far, the strategy has worked.  Last year, under Trainor's leadership, revenues topped $100 million.  In fact, the company has finally exceeded its financial and user growth targets.  As Trainor explains, SoundCloud "has never been healthier financially."
With 'First on SoundCloud,' Trainor has avoided falling into a major pitfall his predecessor hadn't.  Under Ljung, the company had placed its hopes on its Premium services – Go and Go+.  The indie streaming platform competed directly with Spotify and Apple Music.  To survive as a company, he explained that SoundCloud needed to meet high Go and Go+ subscription targets.  It didn't.  So, after losing multiple top executives and requiring an emergency $170 million bailout to continue operating, Ljung finally stepped down.
Of course, Trainor still has a long way to go.  Losses at the company have totaled nearly $100 million.  Yet, he has high expectations for the new campaign.
Citing in-app notifications that reach the streaming platform's "broad audience," he hopes new artists sign-up to form part 'First on SoundCloud' after seeing the strong marketing campaign.
---
Featured image by SoundCloud.