Native Instruments is a manufacturing company for both music production stware and hardware based out Berlin, Germany. Just today, they announced the launch Sounds.com, which is a subscription-based website that provides producers with royalty-free samples, loops, and sound packs available for both personal and commercial use.
This website functions on a subscription service with one flat monthly fee $9.99. This Pro version allows producers to have access to an unlimited amount these samples and sound packs, which can all be downloaded as well. Users can also download unique, premium content that is updated on a weekly basis. Of course, there is a free version that is available for anyone who wants to preview the site before committing to the monthly subscription. The free version gives users access to the entire site, but limits what can actually be downloaded.
During the beta period this website, it is currently only available within the United States. However, there are already over 500,000 sounds that can be previewed and downloaded. A plethora genres are available including Americana, Electronic, Hip Hop/Trap, and Pop/Rock. When browsing, sounds can also be sorted by style, instrument, loop/one-shot, BPM, and key. Sounds from well-known sample providers as well as artists themselves can be found on the site.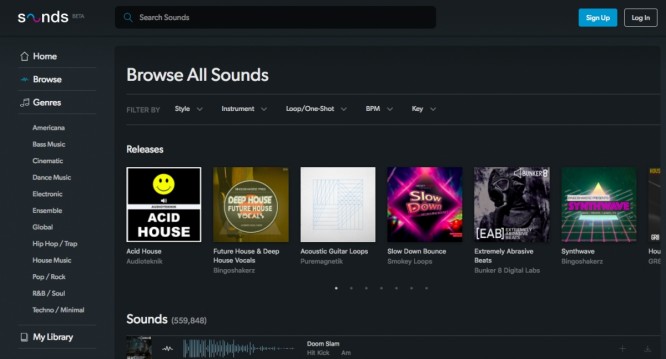 The site's interface itself is very simple and easy to use. Laid out similar to Spotify, the Browse, Genres, and My Library are on the left-hand column. Features, Top Sounds, Explore, and more are located on the scrolling section in the middle the page. A search bar is also located on the top the webpage where producers could input anything that they wanted to find a sound perfect for their new track.
According to The Verge, Native Instruments' chief digital ficer Matthew Adell has said that Sounds.com is a cloud-based service and is keeping up to date with other similar sites. He also stated that in the future, there are plans to build a plug-in so that the website can be compatible with any Digital Audio Workstation (DAW).
Head on over to Sounds.com to explore their beta site and sign up for their initial subscription if you're interested!
H/T: The Verge
Credit: 9TO5 Toys, Sounds.com