Gamers the world unite, oh wait. We're not talking about Grand Theft Auto here, change that auto to audio and it will all make more sense. GTA acronym for Good Times Ahead, are a duo young artists Julio Mejia and Matt Toth based in Miami who've been working with one single mantra since they began their career in music together in 2010.
Living and embodying their core value "Death to Genres" any classic GTA set will only be a testament to the same. Versatile might even just be an understatement for them, as every set has them emphasizing how it's only all about good music and not what genre may seem to cool and not. Best explained on their ficial Facebook page, "GTA sets are musical joyrides with the guys at the wheel, as they speed from trap and hip-hop into booming electro, take unexpected detours with rock and R&B, and screech to a halt for massive bass drops."
Their call to action has been simple since the beginning and taking that a notch higher with their 3 Night Stand Tour, the duo will be playing three consecutive nights in five cities across the country with each night focussed on very different and specific genres dominating their sets. Each day will be color coded with the colors denoting the pre dominant genres the night, Yellow will stand for Moombah, Club, World, while Purple denotes the night House and Techno and lastly Red stands for Rap, Trap and Bass.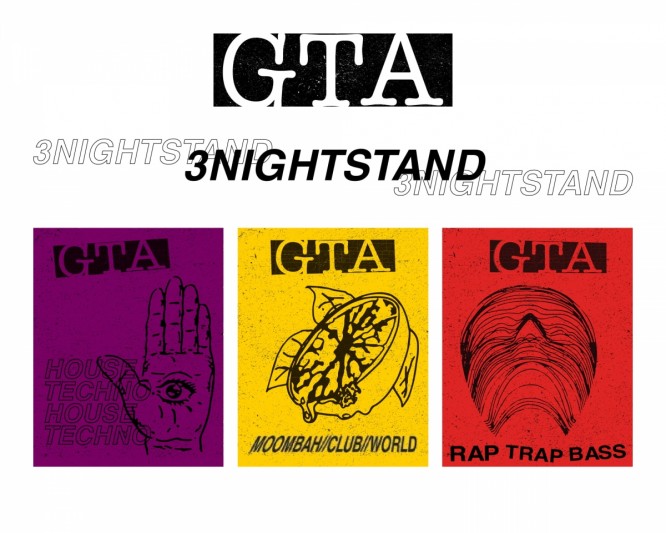 While this concept will not only see the duo digging deeper into more specific genres challenging themselves, it will ensure each night will be a completely different vibe from the previous making each set stand out in its own unique fashion.
And since this concept will mean the duo will be in the cities they're playing for three nights at a stretch, which is hardly ever the case with their jet setting DJ schedules, there are multiple plans in place to allow them to interact more closely with their fans. From production tutorials at music schools, meet and greets at skate shops, to their infamous karaoke sing alongs to System a Down and bartending happy hours at bars on campus, etc in the city that they're in, they have all the plans to pretty much take over and make their presence felt!
On a side note, most these shows are going to be in intimate settings which will mean the tickets available will be pretty limited. Grab your tickets and get set for a 3 Night Stand with the duo! Check out all the tour dates and stops below!
NEW YORK @ Brooklyn Bazaar – 2.14 // 2.15 // 2.16
PHILADELPHIA @ Foundry – The Fillmore Philadelphia – 2.21 // 2.22 // 2.23
SAN FRANCISCO @ 1015 Folsom – 3.8 // 3.9 // 3.10
DENVER @ Larimer Lounge – 3.16 // 3.17 // 3.18
LOS ANGELES @ Echoplex @ The Echo – 3.30 // 3.31 // 4.1