We might ficially now be in 2018, but for those you who were out at The New York Expo Center on the night Dec 29th, your head and heart might still well be sitting back reliving that night in 2017!
DeadBeats Goes Off The Deep End by RPM Presents fered a line-up that had bass lovers venture from near and far to make their way down to the venue in Bronx for an event not to be missed! Kicking f the weekend in perfect fashion, the lineup featured, Zeds Dead, Jauz, Zomboy, Bro Safari, Mija and GG Magree – talk about a bass music lovers delight!
The event took place at a large industrial venue called The New York Expo Center located in the South Bronx. The raw and grungy feel the area as we approached the venue felt eerily quiet except a few fellow attendees almost running down the half mile stretch where roads were cordoned f to for cars in an attempt to make our way to the venue before freezing over. Yes, it was an exceptionally cold NYC winters night at somewhere around 12 degrees!
Once at the venue, up front stood a white trailer van which housed the bag check and box fice spaces. And we mention this cause we has to give BIG props to the teams out there who were layered up and braving that bitter cold while we made our way in to dance our way to warmth and some head banging. There was also a free shuttle service provided to and from the nearby 6 train at intervals throughout the night which was a pretty neat addition for those wanting to use public transport.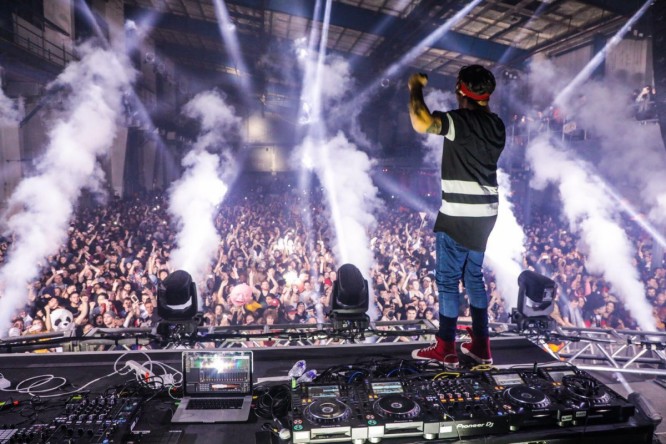 With a stellar line up that the event had, it just kept getting better with each passing set, that is course after you'd maneuvered your way through a serpentine coat check line By the time Mija was ending her set and Bro Safari came on, the venue was nearly packed from side to side, from the front to the back! The headbangers made their way up front while the mosh pits were swelling and diffusing from track to track.
There were a number bars lining both sides the venue which made it easy to grab a drink from pretty much wherever in the venue you were. While it seemed like body heat from the packed audience was pretty much all that was keeping everyone warm, the warehouse did get rather chilly since all the doors opened straight out.
Jauz decided to drop a lot new music during his set and had the audience ecstatic when he revealed that a lot new music and probably a new album was on its way VERY soon in 2018! He was blowing it out the ro until the systems literally blew in the last 10 minutes his set! There was a complete sound black-out for a good 5 minutes plus when Jauz decided to step down right in front the stage and take a moment to connect with his fans up front.
This little fiasco led to cutting that epic set slightly short, but also to an unannounced 10-15 minute gap before Zeds Dead came on which was quite a buzz kill. But in true Zeds Dead fashion, they made right up for it the minute they kicked f their set. Major shout out to them for dropping a dope mix Eleanor Rigby by The Beatles as well! If you've been lucky to watch them live over the past few months you might've well been lucky enough to hear it, if not we definitely checking out some the fan video the same from multiple shows!
At 3.30am the night was still young as Jauz and Zeds Dead took over for a B2B set, which was honestly one the most anticipated parts the night. NYE Weekend saw the three take over three separate cities, kicking it f in NYC and then heading to Arizona and California for some B2B mayhem respectively. With their most recent release "Lights Go Down" being one the sets obvious highlights, they definitely ended the night at its peak, dropping a set that merged their individual styles but yet brought together with perfection.
DeadBeats along with the help attendees also put together an experience recap video definitely worth checking out!