American music mogul Charles Goldstuck has created what is no doubt an exotic, premier, music-recording destination at Albany in the Bahamas.
They say there's nothing more powerful than an idea whose time has come. Charles Goldstuck, formerly executive chairman  TouchTunes, appears to have struck gold with his.
Goldstuck's invention is a state–the-art music recording facility, the like which has not been seen before anywhere in the world.
The Sanctuary's luxurious appeal begins with the location itself. Albany is a deluxe resort community commissioned by Ernie Els, Tiger Woods and the Tavistock Group in 2010. The $2-billion development boasts 600 acres oceanfront beauty and fers a myriad exorbitant recreational amenities.
+ Latest Industry: Jay-Z, G-Eazy, Kanye West, Spotify, Pandora, Live Nation, the RIAA, More…
Among them is an 18-hole championship golf course, a spa and fitness center and plenty bars and restaurants. It truly is "the Monte Carlo the Caribbean," a moniker the locals have readily bestowed upon it.
On the blue, crystal-clear waters Albany is a 71-slip mega-yacht marina, onto which Goldstuck's complex looks out.
The structure itself is a wonder. Its awe-inspiring exterior mimics a deck long, hardcover books aligned in a wave-like pattern. The live room, as one might imagine, is exquisitely (and exorbitantly) white oak-paneled. It is spacious and airy, an ambience that is propagated by its staggering array floor-to-ceiling windows.
The live room is the vision U.K. acoustic designer White Mark Ltd. White Mark also designed London's Abbey Road Studios among other famous venues.
"This is the finest live room ever built," Goldstuck gushed while describing the room's superb acoustics in a Billboard interview.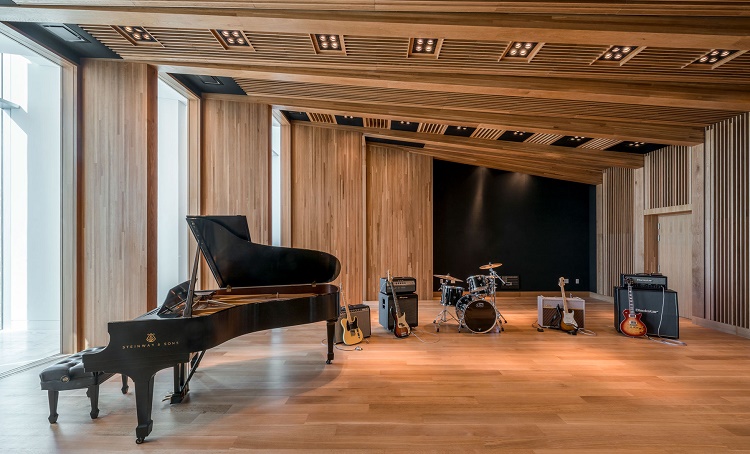 Flanking the live room is an ultramodern control room and five smaller studios, all which boast Pro Tools-equipped Mac work stations. The control room is designed to appeal to both pro-digital and pro-analog clients. Besides a 48-channel Solid State Logic Duality Delta console, it features a wall outboard gear comprising both vintage tools and the very latest in digital recording.
When it's time to wind down, artists and their crews get to relax in a Justin Timberlake-designed green room with a full kitchen, a gas grill and an outdoor deck with a hot tub. Thanks to their branding relationship with Moet Champagne, the green room also features a vending machine that spews split bottles the sparkly drink. There's only two other such machines in the world.
Goldstuck has placed The Sanctuary's management in the capable hands Ann Mincieli.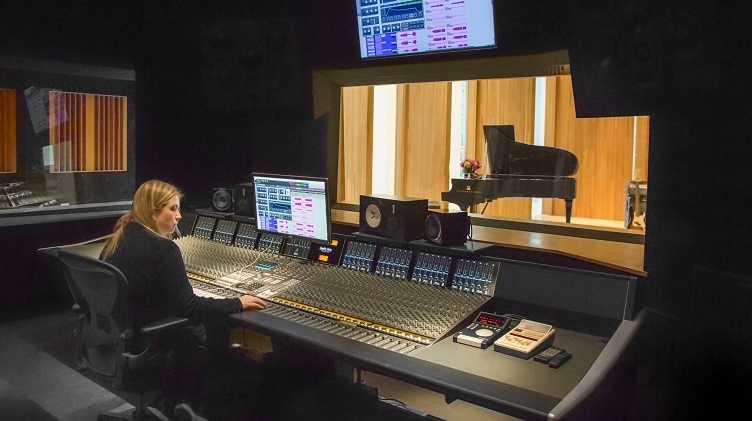 The Grammy-award-winning engineer runs her Jungle City Studios and Alicia Keys' studio in the same New York City complex. It's no surprise, then, that Keys is one the illustrious names that has already recorded in The Sanctuary. Others include Shania Twain, Nipsey Hussle and Joe Don Rooney.
The Sanctuary is certainly a far cry from a crammed-up fice studio. Mincieli sees it as a way to get musical collaborators working together in a more communal way.  "Technology has separated all us," she says. "Musicians used to make records together in a studio. Now, you have someone programming drums 3,000 miles away. You don't even meet him."
One shudders to imagine what it might cost to record in such an exotic locale as The Sanctuary. Goldstuck, nonetheless is keen to dispel any suggestion that it is an exclusive facility reserved for just the affluent.
In fact, one The Sanctuary's key programs is to mentor young musicians in the faraway Caribbean archipelago, a region that Goldstuck believes has more gems waiting to be unearthed than anywhere else.
"There are probably more talented musicians per capita in the Bahamas than anywhere else," he says. "This was an opportunity to build a world-class facility that can serve as a catalyst for local talent development."
Windsor Prep, a private music school in the area, will have access to the facilities. Goldstuck also affirms that the Bahamian community at large is welcome to classes and lessons that'll be held "for all disciplines and at all levels".
The recorded-music industry may not be nearly as pritable as it used to be but the Hitco Entertainment CEO thinks the tide has turned. "Outside the majors, I was seeing a much broader commitment to investing in music," he told Billboard. "I felt that the industry pendulum was swinging back."
"The momentum in music is undeniable," he adds.